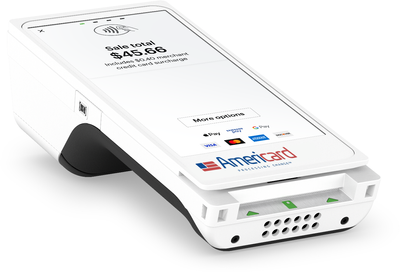 Mobile Processing
In today's highly-competitive business environment, an increasing number of service-based businesses are breaking away from the traditional brick and mortar business model by going mobile. In order to accept payments, mobile businesses approach Americard for our mobile payment processing services.
Mobile businesses, including food trucks, farmer's market booths, personal trainers, limo drivers and more, use mobile payment processing services with improved personalized services and increased sales.
Replacing paper checks and inconvenient credit card machines, today's state-of-the-art systems are app-based, keeping payments, invoices and records in one convenient, transparent and easy-to-use place.
Track inventory, pay vendors, take mobile payments and record tax payments through one, easy-to-understand interface that records every aspect of your organization's bookkeeping in the palm of your hand.
Find out more about the functionality of mobile payment processing software offered by Americard. Our expert payment solutions consultants can design and implement a payment and record keeping process for you that eliminates any need for paperwork. We look forward to helping you take your business to wherever your customers are.
What Our Customers Are Saying
A Pleasure
Was a pleasure dealing with Sol! He helped us thru the whole process is getting our account approved! We are now fully functioning.
- FA
Fantastic
Everything worked exactly as advertised. Customer service was fantastic and setup was very easy. Choosing the right credit card processing solution can make or break your business, and I am very happy with my service. Americard is a good fit for every business.
- Veronica S.
Great Service
Great customer service. They have a great rate and very pleased. I highly recommend giving them a try.
- Moishe K.
Ready to get started? Apply now for our credit card processing services.
No matter which service you choose, Americard lets you accept credit cards without making a big dent in your margins. Confusing discount rates and merchant pricing can make it difficult for merchants to compare competitive quotes and choose the best program for their business.